I grew up in a town called Wichita Falls. There are about 100,000 people here and no one leaves. People travel of course, but the majority of people have only gone to Dallas and back. It's a black hole. It's impossible to leave this town.
Honestly, I'm scared to leave this town. I want to spend my entire life here. It's comfortable. That's part of the reason I'm going to London. While I don't think it will change my mind about staying in Fallz Town, I want to know I could leave if I wanted to.
This blog post will be about Wichita Falls. I figure if I'm going to blog about London, I need to first blog about where I'm from. Maybe when I get to London, knowing this will help explain why it's so cool.
Wichita Falls is known for a few things, including the fake waterfall, Hotter-N-Hell, celebrities and the World's Smallest Skyscraper.
The fake falls
At one point, there was a real waterfall, but in 1886, a flood destroyed it. People wanted to see the falls that the town was named after and since there weren't any, the city decided to rebuild them. Most of the time they're turned off because we're in a drought. The other times, the water is brown because the water here is gross.
***
Hotter-N-Hell
The Hotter-N-Hell is a century bike ride. It's the largest in the country. It's name is a triple entendre. It's 100 miles in 100 degree weather and was initially started as a 100 year anniversary event. I've never done it, but it always closes half of the streets in town.
***
Dr. Phil went to the college here. He opened his own practice and was run out of town, according to my grandmother.
Mia Hamm also went to school here. She played soccer for Notre Dame Catholic School.
Bowling for Soup started here.
Tim Tebow was in town for three hours. He touched me.
That's Tebow touching my shoulder.
***
World's Smallest Skyscraper
There is actually a really funny store behind this.
According to local legend,

when McMahon announced in 1919 that he would build a highrise annex to the Newby Building as a solution to the newly wealthy city's urgent need for office space, investors were eager to seize the opportunity to become even wealthier.

McMahon collected $200,000 in

investment capital

from this group of

naïve

investors, promising to construct a highrise

office building

across the street from the

St. James Hotel

.

The proposed

skyscraper

depicted in the

blueprints

that he distributed was clearly labelled as being 480" tall and consisting of four floors.

McMahon is said to have neglected to mention that the scale of his blueprints was in inches rather than feet.
It's an antique store now.
***
In the summers, there is a small waterpark with three slides we can go to. In the winters, we could probably still go if it was open. It usually hits 80 at least once a month. It did today (March 4.)
In Wichita Falls, everyone knows everyone. I had friends in elementary school that I would tell my parents about. I would then find out that I'd really known the person since I was a baby because our parents had been friends for forever. It was the only reason I could go to sleepovers. My parents already knew the parents.
***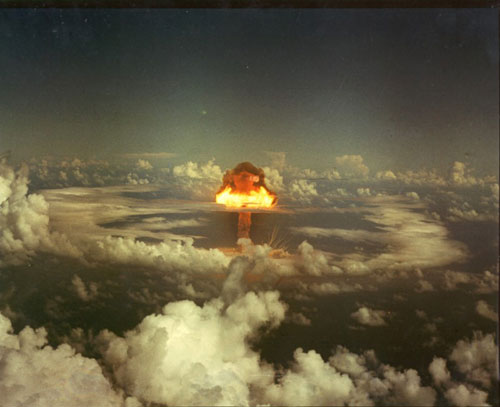 Mushroom cloud during a nuclear attack
Oooh, almost forgot the scariest fact about Wichita Falls. If there was a nuclear attack, the town would be one of the first towns destroyed.
This is because of both Sheppard Air Force Base outside of the Falls, and it's Army counterpart, Ft. Sill, just to the north in Lawton, even though it is a secondary target. Unfortunately, Sheppard is a primary target in the state of Texas so there's really no hope for the Falls if the unimaginable happened.
Yup. I'm dead if there is ever an all-out nuclear attack.